Twitter Slumps After Earnings While Facebook Surges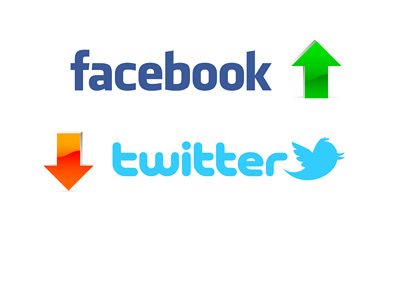 Shares of Twitter, Inc. slumped by nearly 15% today after the company reported Q2 earnings that were a pretty mixed bag. Investors, however, hit the exits after Twitter said that their third quarter revenue numbers will come in significantly lower than analyst expectations. Twitter's new advertising initiatives are not paying off, while the company's user growth remains tepid, at best.
Facebook, on the other hand, continues to surge. The company crushed its Q2 earnings numbers, reporting earnings of 97 cents per share on revenues of $6.44 billion (compared to expectations of 82 cents per share of earnings and $6.02 billion in revenues). Daily active users were up 17% year-over-year, and the company continues to be a favorite spot for advertisers to spend their budgets.
Talk to practically anyone in the advertising industry who handles a marketing budget and they will tell you that Facebook is a major advertising outlet while Twitter is pretty much a non-factor.
-
Twitter is currently valued at $10.98 billion, while Facebook is going to be worth over $380 billion when the stock opens for trading on Thursday.
Facebook continues to launch popular new advertising initiatives, while advertisers remain extremely reluctant to advertise on Twitter.
Facebook owns two of the biggest social media and messaging companies in the world, Instagram and WhatsApp, while Twitter is struggling to figure out what to do with Periscope.
Facebook allows its advertisers to micro-target its users thanks to the fact that Facebook users are so willing to hand over their personal information. Twitter, on the other hand, has an ongoing problem with anonymous trolls and robo-accounts.
-
Given Twitter's current trajectory, it seems to be just a matter of time before shares fall to a level that attracts activist shareholders who will look to apply pressure on CEO Jack Dorsey to sell the company. Twitter's shareholders don't seem to be holding out much hope that the company can turn things around, which means that a buyout is more likely than not (in my opinion) to occur in the future, but likely when shares have fallen considerably further.
Facebook, on the other hand, continues to march towards becoming one of the world's most valuable companies.
Filed under:
General Market News