Value Investors Now Moving Into Apple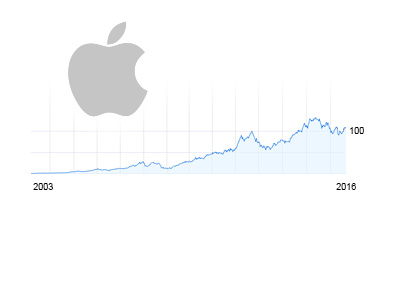 It happens to every high-flying growth stock - eventually the staggering growth slows and investors evaluate the company differently. It will happen to companies such as Facebook and Netflix, and it has happened to Apple Inc.
After years of eye-popping growth, Apple is now being valued in a different way by the market. With a P/E ratio of just 12.55, investors are looking more at Apple as a cash generator rather than as a growth company.
In fact, Apple received the ultimate stamp of approval as a "value company" earlier this year when Berkshire Hathaway, run by the "Oracle of Omaha", Warren Buffett, announced that they were purchasing shares in the company. Berkshire Hathaway would further increase its stake later in the year as shares of Apple remain well below their all-time high. Sure, Buffett himself may not have been responsible for Berkshire's purchase of Apple, though he surely would not have signed off on the purchase if Apple didn't offer compelling value for the company's shareholders.
-
After seemingly doing no wrong for roughly a decade, Apple has been under siege as of late. Underwhelming product launches (iWatch), scuffles over taxes owed and increasingly stiff competition have wrung hundreds of billions of dollars from the company's market capitalization.
The company has a new product launch coming soon (iPhone 7), though investors and Apple consumers seem to be thoroughly unenthused.
-
For some, Apple's upcoming product launch is a perfect opportunity to earn jump into the stock or add more shares.
After all, they argue, the company remains an uber-profitable monster with a near-flawless brand. If Apple can do anything to excite consumers with their upcoming product launch, the stock should rally as a result. If not, value investors argue, the company has a very solid foundation and shouldn't drop much.
-
Berkshire Hathaway believes that Apple offers compelling value right now - what do you think?
Filed under:
General Market News