Definition of EUR
What does "EUR" mean? What is the definition of the term EUR?
EUR is the "currency code" (or ISO 4217 code) for the Euro.
The Euro, as you are likely aware, is the official currency of the Eurozone.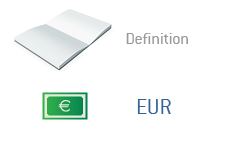 The Eurozone is an economic and monetary union that consists of 17 European Union member states, including Germany, Italy and Portugal.
The Euro (EUR) was established on January 1st, 1999.
The value of a currency is determined by pairing it with another currency. For instance, you don't say "The Euro is worth X". Instead, you say "The Euro (EUR) is currently trading at 1.3296 against the US Dollar (USD)".
The EUR hit an all-time high of nearly 1.60 against the USD in the summer of 2008, and currently trading at 1.3296 against the USD.
--
Davemanuel.com Articles That Mention
EUR:
United Kingdom Stands in the Way of Microsoft-Activision Purchase
United States: No Vaccine Passports
"Roaring Kitty" Hit With Class Action Lawsuit in Massachusetts
President Trump Re-Election Odds: His Election to Lose
Is Tesla Inc. The Most Polarizing Company in the History of the Stock Market?