Definition of Bull
What does the term "bull" mean as it applies to the world of investing? What is the definition of the term "bull"?
A "bull" is somebody who believes that a certain asset (or the market in general) is set to rise in value.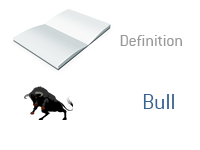 For instance, a "gold bull" is somebody who is "bullish" on the price of gold, meaning they believe that the price of gold is set to rise from its current levels.
Or, another example - let's say that you believe that shares of Microsoft are going to increase over the short-term due to a new product release. You think that the fundamentals of the company are sound, and you also believe that the shares are being undervalued by the market. In this case, you would be a "bull" on Microsoft (or "bullish" on Microsoft), due to the fact that you believe that shares of the company are going to be heading higher.
The opposite of a bull? A bear. A bear is a person who believe that the market or an individual asset is going to drop in value.
--
Davemanuel.com Articles That Mention
Bull:
How Long Did It Take President Obama To Declare a National Emergency for H1N1 (Swine Flu)?
The WeWork IPO: Investors Finally Say "No Mas"
How Do Calls and Puts Work in the Stock Market?
Is Tesla Inc. The Most Polarizing Company in the History of the Stock Market?
How Will The Younger Generation of Investors Handle a Bear Market?