Definition of Food Price Index
What is the "Food Price Index"? What is the definition of the "Food Price Index"?
The "Food Price Index", or FFPI as it is also known, is compiled by the Food and Agriculture Organization (FAO) of the United Nations.
Also to FAO.org, the Food Price Index is "a measure of the monthly change in international prices of a basket of food commodities".
The "baskets of food commodities" are: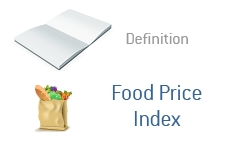 -FAO Cereal Price Index
-FAO Dairy Price Index
-FAO Oils/Fat Price Index
-FAO Meats Price Index
-FAO Sugar Price Index
Each of the five price indices includes a number of different quotations.
The values of the five indices are compiled and then weighted with the average exports shares of each of the groups for 2002-2004. The final result is a figure that represents the current value of the FAO Food Price Index. For instance, the value of the index in February of 2011 was 236, which was an all-time high.
--
Davemanuel.com Articles That Mention
Food Price Index:
Food Prices Hit Another Record High in February
Global Food Prices Hit Record Levels in January
Food Prices Are Soaring