Definition of Form 13F
What is a Form 13F? What is the definition of Form 13F? In which situations must a Form 13F be filed?
According to the SEC, "institutional investment managers who exercise investment discretion over $100 million or more in Section 13(f) securities MUST report their holdings on Form 13F with the SEC."
To view the current list of Section 13(f) securities,
click here
(SEC.gov, *.pdf)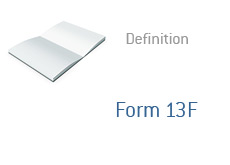 Form 13F must include the following information:
-an alphabetical list of all of the Section 13(f) securities that the investment manager currently owns
-description of the type of security
-number of shares owned
-value of securities
For instance, here is a line from Paulson & Co Inc's most recently filed Form 13F:
Bank of America Corp COMMON 060505104 2703718 159794229 SH Defined 01 159794229
"2703718" is the value of the securities (x1000).. 159794229 is the number of shares that Paulson & Co Inc. held as of September 30th, 2009 (159,794,229)..
Form 13F's must be filed on a quarterly basis, and usually show up about 4 weeks to a month and a half after the end of the quarter.
--
Davemanuel.com Articles That Mention
Form 13F:
Apple Computer and Microsoft Most Popular Institutional Investor Holdings in Q4/2014
Berkshire Hathaway Acquires Large Stake in Exxon Mobil
Institutional Investors Loved These Ten Stocks The Most Last Quarter..
The "Manuel Fund Report" Launches
Five Stocks That Are Widely Held by Hedge Funds That You May Never Have Heard Of