Definition of Market Value
What does the term "market value" mean? What is the definition of the term "market value"?
The "market value" is the value at which an asset could currently be bought or sold. The market value isn't what you think the asset is worth - instead, it's what the market determines the asset is worth. What could you buy or sell an asset for in today's market? That's the current market value.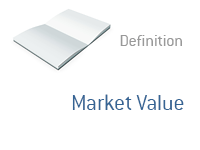 Let's say that you buy a home for $500,000. Three years go by, and the real estate market sags in your area.
You get multiple appraisals done on your property to determine the current value. The three appraisals all come in at $355,000, but you are stubborn in your belief that your home could still fetch $500,000 on the open market.
You decide to list your home for $500,000, but nobody puts an offer in. Finally, after dropping your listing price all the way down to $350,000, you eventually unload the home.
The "market value" of the home was $350,000, as that was the price that you could sell the asset for.
--
Davemanuel.com Articles That Mention
Market Value:
Berkshire Hathaway: Up 3,641,613% Since 1965 and Counting
A Look at Warren Buffett's Annual Returns
How Do Calls and Puts Work in the Stock Market?
Elizabeth Warren Set To Propose Wealth Tax
Pershing Square Capital Management Purchases More Shares of Valeant Pharmaceuticals In Midst of Freefall