Definition of Partial Government Shutdown
What is meant by the term "partial government shutdown"? What happens in the event of a "partial government shutdown"?
Over the past few days, the term "partial government shutdown" has been widely used in the news.
A "partial government shutdown" occurs when the federal government suspends all "non-essential" operations.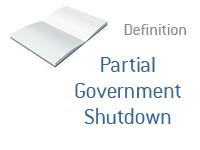 The longest partial government shutdown in the modern era stretched from November 19th, 1995 to December 16th, 1995. The shutdown was the result of President Clinton and the Republican-controlled Congress butting heads over the budget and the country's debt ceiling limit.
In the case of a partial government shutdown, here are some of the things that typically occur:
-many federal employees are furloughed
-many federal facilities shut, including national parks and museums
-paper returns go unprocessed at the IRS
-new applications for Social Security go unprocessed
-visa and passport applications go unprocessed
--
Partial government shutdowns are fairly rare in the United States, but they certainly do occur.
--
Davemanuel.com Articles That Mention
Partial Government Shutdown:
A History of Partial Government Shutdowns of the US Federal Government
President Obama's Approval Rating Continues To Tumble
October Unemployment Numbers: 204,000 Jobs Added, Unemployment Rate Ticks Up to 7.3%
President Obama's Approval Rating Hits All-Time Low
September Employment Numbers: 148,000 Jobs Added, Unemployment Rate Drops to 7.2%