Definition of Swing State
What is a "swing state"? What is the definition of the term "swing state"?
In politics, a "swing state" is a state in which neither party (Republican or Democrat) can claim a decisive historical advantage. For this reason, a "swing state" could vote either way, which makes integral states to campaign in.
Some examples of swing states: Ohio, Florida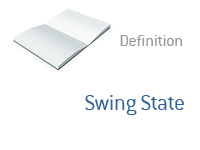 Ohio and Florida are both considered "swing states" because they could both go to either the Democrats or Republicans in any given election year. For that reason, Presidential candidates will spend a tremendous amount of resources on these two states. If you win both Ohio and Florida, then there is a very good chance that you will win the Presidency.
States that traditionally vote one way are considered "safe states".
Note: another name for a swing state is a "battleground state".
--
Davemanuel.com Articles That Mention
Swing State:
What Were The Three Biggest Blowouts in The History of the US Presidential Elections?
President Obama Finishes With 332 Electoral Votes After Officially Winning Florida
Jobless Rates Up in 44 States in July
100 Days Until The US Presidential Election
CNN Poll: Obama Leads Romney Nationally, Romney Ahead in 15 Battleground States