The Clintons Have a Net Worth Of As Much As $25.5 Million
Hillary Clinton is the current Secretary of State, which means that she must file annual financial disclosures which are made available to the public.
Thanks to these disclosures, we are able to get an idea as to just how much Bill and Hillary Clinton are worth.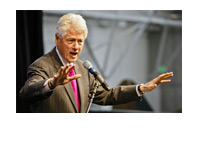 Former President Bill Clinton makes an unbelievable amount of money giving speeches every year.
In 2011, Bill Clinton gave a total of 54 speeches all around the world. His compensation? $13,434,000, which works out to an eye-popping $248,777.78 per speech.
President Clinton has been giving speeches ever since leaving office in 2001, and his family has reaped the benefits. Add in book royalties, pension funds and Hillary's salary, and the Clinton family is doing very well.
How well?
According to Secretary of State Hillary Clinton's last financial disclosure, the Clinton household has a net worth of between $710,008 and $25,550,999. $710,008 is the absolute minimum that the Clintons' are worth, while $25,550,999 is the maximum (actually, they could be worth much more than this, but people who file these disclosures aren't required to list their primary residences). Assets and liability amounts are given in ranges, which is why we don't have an exact amount for you.
The bulk of the Clintons' net worth is held in a JP Morgan Custody account. The Clintons' currently have between $5 million and $25 million in this account.
Other assets include "real property" in California ($500,001 - $1,000,000) and multiple life insurance policies.
The only liability that Bill and Hillary Clinton currently have is the mortgage on their personal residence - the Clintons currently owe between $1 and $5 million. As mentioned, the family isn't required to list their primary residence as an asset, which means that they are likely worth much more than what is listed above.
--
Note:
Bill Clinton also receives
a taxable pension of $191,300 for being a former US President.
Source:
Hillary Clinton Net Worth