2009-02-05 19:15:15 - By Dave Manuel

Review of Questrade



Questrade Affiliate ID / Promotional Code: MANUEL


(Enter This Code To Receive Up To $50 In Commission Rebates When You Open An Account and Fund an Account at Questrade)

Let me start off this review by saying this: Questrade is near and dear to my heart.

I have been a customer of theirs for many years, and can recommend them without the slightest bit of hesitation. I believe that I started trading with them in late 2001/2002, and have been a loyal customer ever since. This is not a promotional spiel - this is just the truth.








I like Questrade.com for the following reasons:

1. Attractive commission structure. Stock trades costs 1 cent per share with a $4.95 minimum and a $9.95 maximum. Options trades are $9.95 + $1 per contract.

If you are a medium-sized trader (like me) who trades 300-600 share lots at a time, then you will find that you will save a fortune compared to the more expensive alternatives on the market.

Over the course of an entire year, this can add up to thousands upon thousands of dollars worth of savings.

2. Excellent Customer Service. Everyone will have different customer service experiences, but mine have all been positive when dealing with Questrade. They are fast, knowledgeable and very helpful. I've had multiple occasions when some of the principals of the company have emailed me themselves. It's that kind of a personal touch that makes a customer feel valuable, and inspires long-term loyalty. This is one of the main reasons why I haven't taken my business elsewhere, nor do I intend to.

3. Perks. Perks such as up to $50 worth of free commissions.

4. The Software Packages. I love Questrade's direct access software platform. Also, if I happen to be away from my computer and need to execute a trade, then I can log in via their QuestraderWEB platform.





5. The account opening process. Questrade has this down to an art, and I would venture to say that their account opening process is MUCH faster compared to their competition. I love the fact that I can fund my account by paying a "bill" through my online banking system. This is much less painful than going to a bank teller and watching them take up to 20 minutes to figure out how to process a bank wire. A small touch that makes a big difference for me, and takes away a couple of headaches per year.

Questrade offers a number of different products, including: stocks and options, forex, mutual funds, TSFA accounts, gold trading and RSPs.

I'd highly recommend that you consider them when opening up an online brokerage account. They have served me well over the past 6-7 years, and they will continue to get my business.


Questrade Promotional Code --> MANUEL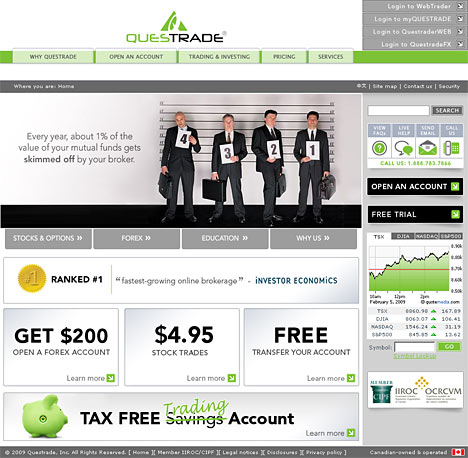 Filed under: Company Reviews