What Are The Favorite Holdings of Some of the World's Top Money Managers?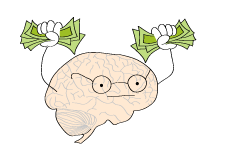 In our Q2 Fund Report (link below), we revealed the top 100 most widely held stocks of the 96 different institutional investors that we tracked throughout the quarter.
Not surprisingly, companies such as Apple, JP Morgan Chase and Co. and Bank of America topped the list. Apple was the most popular holding of them all - of the 96 funds that we tracked in the second quarter, exactly half (48) held at least one share of Apple at the end of the quarter.
I thought that it would be interesting to look at some of the most recognizable institutional investors and money managers in the world to see what their top holdings were in Q2.
Here you go:
Berkshire Hathaway (Warren Buffett) - Coca Cola Co. (KO), 200,000,000 shares, total market value of $10,024,000,000
Bill & Melinda Gates Foundation Trust - Berkshire Hathaway Inc. (BRKA), 73,997,400 shares, total market value of $5,896,853,000
Paulson & Co Inc - SPDR Gold Trust (GLD), 31,500,000 shares, total market value of $3,832,920,000
Goldman Sachs Group Inc - ISHARES TR INDEX (IWM), 50,528,634 shares, $3,088,057,000 total market value
Soros Fund Management LLC - SPDR Gold Trust (GLD), 5,244,697 shares, $638,175,000 total market value
Citadel Advisors LLC - Apple INC (AAPL), 3,234,249 shares, $813,511,000 total market value
SAC Capital Advisors LP - Alcon Inc (ACL), 2,686,942 shares, $398,178,000 total market value
Renaissance Technologies LLC - Microsoft Corporation (MSFT), 22,477,384 shares, $517,205,000 total market value
Janus Capital Management LLC - Apple Inc (AAPL), 17,014,648 shares, $4,279,754,000 total market value
FMR LLC (Fidelity) - Apple Inc (AAPL), 51,259,120 shares, $12,893,371,000 total market value
Greenlight Capital Inc - CIT Group (CIT), 10,590,429 shares, $358,591,000 total market value
Source:
Q2 Manuel Fund Report
Filed under:
Hedge Fund News