How Will Institutional Investors React to Adobe's Earnings Woes?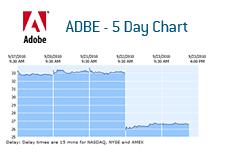 In Q1/2010, we tracked a total of 97 institutional investors in our fund database. This included some of the biggest money managers in the world, including Berkshire Hathaway, FMR LLC, Paulson and Co. Inc., etc.
When I compiled the report, one of the first things that jumped out at me was that ADBE had the highest "funds adding net change" score of any of the many thousands of stocks that we tracked throughout the quarter.
ADBE had a "funds adding net change" score of +14 in Q1/2010. Of the 97 investors that we tracked in our database during Q1, 16 decided to increase their existing positions in ADBE during the quarter, while just 2 decided to decrease their existing positions. This left ADBE with a "funds adding net change" score of +14, which was the highest of any stock tracked during Q1.
The enthusiasm that these institutional investors showed towards ADBE was not rewarded, as the stock has taken a beating since the end of Q1.
At the end of March (end of Q1), ADBE was trading for around $35 per share, which was fairly close to its 52 week high.
Less than six months later and the stock is now trading at $26.67 per share.
ADBE took an especially heavy beating on Wednesday, trading down nearly 20% after many analysts took a very dim view as to the company's prospects over the next couple of quarters. Sales of Adobe's Creative Suite product were blamed as the main reason behind the company's soft earnings projections over the coming quarters.
This is obviously not very good news to the institutional investors who chose to increase their positions in ADBE during the first quarter.
--
So who are some of the institutional investors that owned sizable positions in ADBE during the second quarter of 2010?
Let's take a look:
Jennison Associates LLC (30,132,585 shares)
Viking Global Investors LP (11,408,833 shares)
Delaware Management Business Trust (7,357,615 shares)
Goldman Sachs Group Inc (3,210,363 shares)
Janus Capital Management LLC (2,285,987 shares)
Jennison Associates LLC took an especially rough beating after Adobe's collapse yesterday, dropping approximately $200 million (assuming that they didn't sell any of their shares in ADBE from the end of June up until Tuesday).
It will be interesting to see how institutional investors reacted to ADBE's news when the Q3 13F-HR's are released later in the year.
Source:
Q2 Manuel Fund Report
Source: Davemanuel.com -
ADBE Quote
Filed under:
Hedge Fund News