John Paulson Reportedly Earned $4.9 Billion Last Year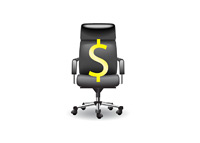 According to Absolute Return + Alpha (HT: New York Times), the top 25 hedge fund managers in the world made a combined $22.07 billion in 2010.
Of the 25 hedge fund managers on 2010's "Rich List", six added at least $1 billion to their total net worths last year.
At the top of the list? No surprise - John Paulson.
John Paulson of Paulson and Co. Inc. reportedly made a whopping $4.9 billion in 2010, as his firm cashed in on big bets on both gold and a global economic recovery. John Paulson has a substantial portion of his net worth tied up in his hedge funds, so when Paulson and Co. Inc. has a big year (as it did in 2010), then John Paulson will also have a very big year.
It should be noted that Paulson's $4.9-billion payday in 2010 is the largest single-year gain on record for a hedge fund manager.
The other hedge fund managers who made at least a billion last year were:
Ray Dalio (Bridgewater Associates) - $3.1 billion
James Simons (Renaissance Technologies) - $2.5 billion
David Tepper (Appaloosa Management) - $2.2 billion
Steven Cohen (SAC Capital Advisors) - $1.3 billion
Edward S. Lampert (ESL Investments) - $1.1 billion
--
John Paulson made a big splash back in 2007 when he successfully bet against the US subprime mortgage market and made his firm billions of dollars practically overnight.
At the time, many people declared that Paulson had gotten "lucky" and would prove to be nothing but a one-hit wonder.
Well, the John Paulson profit machine keeps chugging along - from 2007-2010, John Paulson has made nearly $13 billion for himself, which has made him one of the most closely followed hedge fund managers in the world.
--
The $22.07 billion that the top 25 hedge fund managers in the world earned last year is obviously a princely sum, but it is only the third-highest total since Absolute Return + Alpha started compiling their "Rich List" in 2001.
Source:
Absolute Return + Alpha
Source: New York Times -
Even Funds That Lagged Paid Richly
Filed under:
Hedge Fund News