Definition of Convention Bounce
What does the term "convention bounce" mean? What is meant by the term "convention bounce"?
The term "convention bounce" refers to the bounce that US Presidential candidates (either Democrats or Republicans) receive in the polls after the National convention for their respective parties comes to an end.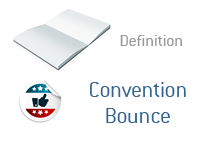 The national conventions take place 3-4 months before people go to the polls in an election year. The purpose of the convention is to formally nominate two people - the Presidential Nominee and the Vice-Presidential nominee.
The national conventions are usually an uplifting and almost celebratory affair, which is why poll numbers tend to increase in the aftermath. The conventions are nationally televised and are watched by tens of millions of Americans.
In 1980, for instance, Presidential nominee Ronald Reagan enjoyed a very large bounce in the polls after the Republican national convention in July of that year. A few weeks later, incumbent Jimmy Carter enjoyed a similar bounce after the Democratic National Convention was held. In the end, Ronald Reagan ended up winning handily.
--
Davemanuel.com Articles That Mention
Convention Bounce:
US Presidential Election Odds Continue To Narrow as Donald Trump Surges
The Barack Bounce: President Obama Takes Five Point Lead Over Romney
Barack Obama and the Democrats Next Up As Their National Convention Begins This Week
The History of the "Convention Bounce"