Definition of Endorsement
What does the term "endorsement" mean in the world of US elections? What is meant by an "endorsement"?
When it comes to elections, securing "endorsements" is extremely important if a candidate hopes to win.
Endorsements come in three different forms - the politician/political organization endorsement, the celebrity endorsement and the newspaper endorsement.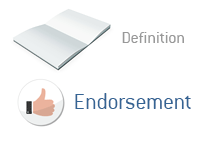 Let's look at them one by one:
1. The Politician/Organization Endorsement. Let's say that a person who is running for the Republican Nomination for President elects to drop out of the race. In most instances, this person will "endorse" another candidate for President. In essence, they are telling all of their supporters to vote for the person that they have endorsed.
2. The Celebrity Endorsement. This one is fairly straightforward. Celebrities can be very influential and their endorsements can certainly carry some weight. For instance, film star and director George Clooney may elect to "endorse" (publicly support) Hillary Clinton.
3. The Newspaper Endorsement. A newspaper (such as the New York Times), may elect to "endorse" a candidate, usually via an editorial in their newspaper. Certain newspapers tend to lean to the right and will endorse conservative candidates, while other papers will lean to the left.
--
Davemanuel.com Articles That Mention
Endorsement:
President Trump Loses His Betting Advantage
The Time When Raghib "The Rocket" Ismail Shocked The World
Former IRS Chief: No Reason Donald Trump Can't Release His Tax Returns
Nike Is The Worst Performer in DJIA So Far This Year
Donald Trump's Polling Numbers Plunge Following Terrible Week For His Campaign