Definition of Fiscal Year
What is the definition of the term "fiscal year"? What does the term "fiscal year" mean?
A "fiscal year" is a 12 month period that is designated for accounting purposes.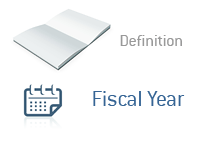 For instance, a company may designate the end of its fiscal year as October 31st. This would mean that its first quarter (Q1) would start on November 1st.
When calculating an annual statement, accountants would look at the period between November 1st and October 31st, as this would constitute the company's fiscal year.
In the United States, the fiscal year ends on September 30th. So, if you hear that the United States posted a deficit of $1.1 trillion in the 2011 fiscal year, this would mean that the United States posted a deficit of $1.1 trillion between October 1st and September 30th of the following calendar year.
--
Davemanuel.com Articles That Mention
Fiscal Year:
What is the Difference Between "On-Budget" and "Off-Budget" When It Comes to the US Deficit?
Largest Ever Monthly Deficit Posted in February in United States
United States Posts $587 Billion Deficit in FY2016
Warren Buffett Lashes Out at Donald Trump Over "Billionaire Taxes"
Treasury Department: Anonymous Donor Gave $2.2 Million To Help Pay Down National Debt in September