US Budget Deficit Hits $234 Billion in February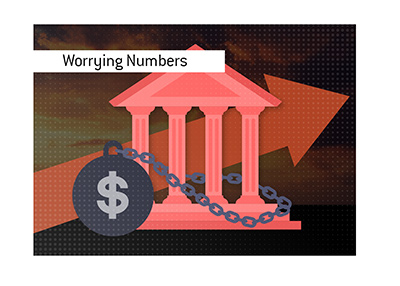 The United States posted its largest single monthly deficit in history in February, as the country spent $234 billion more than what it brought in during the month.
This brings the total deficit for fiscal 2019 to $544 billion so far, with seven months of the fiscal year still left to go.
It should be noted that February is typically the worst month of the year in terms of the deficit. Just to pick some examples - in February of 2011, the US government posted a budget deficit of $222.51 billion, while in February of 2012, the government posted an even larger deficit of $231.68 billion.
Things ramp up in April, with the government typically posting a surplus during that month due to a surge in income tax payments.
-
The Congressional Budget Office forecast in late January that the federal government would post a deficit of approximately $900 billion during the 2019 fiscal year.
By 2022, the government is expected to regularly run trillion dollar plus deficits, assuming that no major changes have been made to impact revenues or expenses.
While the nation's budget deficits remain staggeringly high, some people maintain that as long as they stay below 5% of the gross domestic product, the nation will be able to cope.
Others say that the nation's high debt load is a problem that needs to be dealt with, as finding buyers of government debt and servicing the rising debt load becomes increasingly difficult, especially if interest rates find their way higher in the future.
-
The US economy remains strong, though this should be worrying in terms of the deficit.
If the US economy posts a $900 billion deficit during the good times, how large will a deficit swell when the economy slows down?
I would expect the budget deficits to be a big issue during the 2020 Presidential election. If it isn't a big issue - it should be.
Filed under:
General Knowledge