Definition of Super Tuesday
What does the term "Super Tuesday" mean? What is meant by the term "Super Tuesday"?
"Super Tuesday" refers to the date in each Presidential election year when the largest number of states hold their primary elections to select delegates to national conventions where the party's Presidential candidates are officially nominated.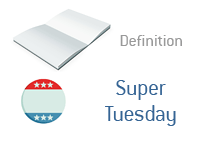 In 2012, "Super Tuesday" was held on March 6th, 2012. Republican primaries and caucuses were held in a total of 10 states, with 416 delegates being selected.
The ten states involved in the 2012 edition of "Super Tuesday" were:
Alaska, Georgia, Idaho, Massachusetts, North Dakota, Ohio, Oklahoma, Tennessee, Vermont, Virginia.
The leading candidate after "Super Tuesday" (in 2012, that man was Mitt Romney) is historically an overwhelming favorite to secure his party's nomination.
--
Davemanuel.com Articles That Mention
Super Tuesday:
When Will a Democratic Nominee Be Chosen in 2020?
Donald Trump, Hillary Clinton Look To Score Big on "Super Tuesday"
Hillary Clinton Rampages to Victory in South Carolina
Gov. Chris Christie Endorses Donald Trump for President
Rubio, Cruz Go For Trump's Jugular in CNN Debate