Definition of Campaign





What is the definition of the term "campaign"? What is meant by the word "campaign"?

A campaign is a concerted and coordinated effort to win some sort of office, political or otherwise.

For instance, Joe Smith wants to run for mayor of the small town that he lives in, and he decides to launch a "campaign" to become mayor. This could include posting signs around town, going door-to-door to talk to constituents and placing ads in the local newspaper.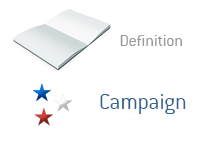 Barack Obama has also launched his campaign to win the US Presidential election. Obama's campaign is considerably more complex than Joe Smith's campaign, as you can probably imagine. The Obama campaign will have hundreds of employees and tens of thousands of volunteers. Obama's campaign will involve the placing of advertisements, making appearances across the country and raising money - this is all part of the campaigning process.

When somebody drops out of a race, they are said to have "suspended their campaign". This is just a nice way of saying that they have dropped out of the race.


Davemanuel.com Articles That Mention Campaign:

President Obama Set To Make His Fifth State of the Union Address on Tuesday

President Obama: No Deal Without Higher Tax Rates For The Wealthy

Negativity Reigns Supreme In Race For White House

Romney Victory Effort: We Raised $111.8 Million in 17 Days

One More Time: President Obama and Mitt Romney Set To Square Off In Final Presidential Debate




Click Here For Hundreds More Definitions