David Einhorn Targets JOE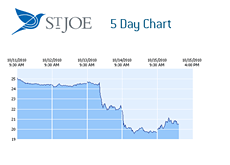 The St. Joe Company (JOE) came under significant pressure earlier this week after David Einhorn delivered a withering evaluation of the company at the Value Investors Conference.
Prior to Einhorn's presentation on Wednesday, JOE was trading at around $24.50.
As word of Einhorn's presentation started to spread through the investment community, the bottom fell out The St. Joe Company's shares.
After opening Wednesday at around $24.50, JOE closed the session at $22.16.
Thursday was more of the same for the company, as JOE opened at $21.57 and closed the day at just under $20.
David Einhorn, in case you didn't know, runs Greenlight Capital. Einhorn is an extremely influential trader who is likely best known for his very public (and very correct) short of Lehman Brothers a few years ago.
In short - when Einhorn speaks, people listen.
The crux of Einhorn's argument against The St. Joe Company? Einhorn contends that the company's balance sheet is "misleading" to investors due to improperly valued assets.
According to BusinessInsider.com
, "St. Joe Company has a significant amount of investments in Florida real estate, both commercial and residential". Einhorn contends that these investments are "highly overvalued on the balance sheet" of JOE, and that "many of the projects exist as ghost towns where no one is living".
Einhorn apparently revealed that he has been short JOE since 2006.
This should be an interesting battle - Bruce Berkowitz, for instance, is a JOE bull and added to his company's position (Fairholme Capital Management, LLC) earlier this week as soon as word of Einhorn's presentation broke. Einhorn had offered to debate Berkowitz in a public forum about JOE, but apparently Berkowitz didn't respond to the challenge. Instead, Berkowitz decided to increase his position in the company.
At the end of Q2/2010, Fairholme Capital (26,799,155 shares) and Janus Capital Management LLC (10,369,537 shares) were two of JOE's biggest supporters.
Who will be right - Einhorn or Berkowitz?
Additional Info on JOE:
Davemanuel.com -
JOE Quote
Additional Info on Greenlight Capital
Davemanuel.com -
Greenlight Capital Holdings
Filed under:
Hedge Fund News