CFPB Releases Sobering Student Loan Statistics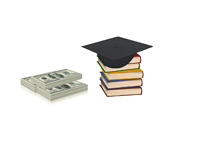 According to Rohit Chopra of the CFPB (Consumer Financial Protection Bureau), outstanding student loan debt in the United States likely topped the trillion dollar mark "several months" ago. This is higher than the numbers that were released by the Federal Reserve Bank of New York earlier this month (the NY Fed put the outstanding student loan number at $870 billion).
To put the student loan number into perspective, total credit card balances in the United States currently sit at around $700 billion, while total auto loan balances are around $730 billion.
According to Chopra, student loan debt has continued to accelerate, unlike other consumer credit products. Chopra notes that students borrowed $117 billion in federal student loans just last year.
One of the biggest problems is that many former students aren't able to keep up with their interest payments, so their outstanding balances are growing with each passing month. This is a direct result of a tough job market that has many college graduates struggling to find quality jobs.
In addition, numerous states have cut their higher education budgets, which has created even more of a burden for students.
The housing and job markets have also created more of a strain for parents, and this, in many cases, has resulted in Junior needing to take out a student loan rather than receiving money from the Bank of Mom and Dad. With many American households struggling to make ends meet, many just don't have the money to contribute to an education fund for their kids.
The growing student loan burden in the country has a spillover effect that impacts practically everyone. Many college graduates simply don't have the resources to buy a starter home, and this is helping to subdue any potential rebound in the housing market. In addition, many recent graduates have had to scale way back on their consumption as they a) can't find a good job b) have a crushing student loan balance c) combination of the two.
--
Can this trend of growing student loan balances be reversed anytime soon? Given the way that things are going - doesn't seem very likely.
Source: Businessweek.com -
Student-Loan Debt Reaches Record $1 Trillion, US Report Says
Filed under:
General Knowledge