High Gas Prices Causing Many Americans To Rethink Holiday Plans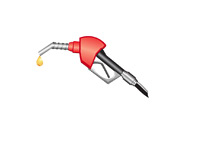 The good news is that a gallon of gasoline will cost you less money (on average) than it did exactly one year ago.
The bad news? The nationwide average price of a gallon of gasoline is still $3.66.
According to Gasbuddy.com (link below), the average nationwide price of a gallon of gasoline was $3.788 on Memorial Day last year. This year, a slight "break" at the pumps, as the cost of gasoline has "dropped" roughly 13 cents per gallon.
A gallon of gasoline cost just under $4.00 per gallon in early April of this year but has been trending lower ever since.
in 2011, gasoline came very close to the $4.00/gallon mark in April before dropping down into the mid $3s by the middle of the summer.
--
Gas prices are already painfully high for many Americans families, but most households list $4/gallon as the price at which they would have to make serious changes to their overall lifestyles.
It appears unlikely that we will hit those levels this year, but stranger things have happened.
--
is the high price of gasoline forcing you to rethink your summer vacation plans this year?
Source:
GasBuddy.com
Filed under:
General Knowledge