Major Indexes Suffer Worst Quarters Since 2011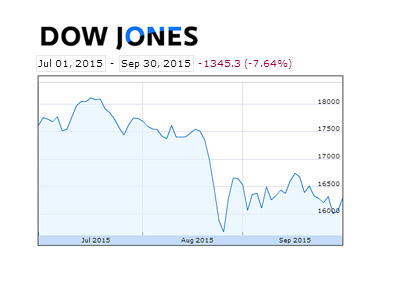 The third quarter was one to forget for most investors, as the DJIA, S+P 500 and NASDAQ all posted their worst quarterly performances since 2011.
There were two major issues that weighed on the markets during the third quarter - China and the uncertainty over interest rate hikes in the United States.
Fears over slowing growth in China made for a very volatile month in August, as stocks sold off dramatically in the second half of the month before stabilizing. China's slowing economic growth has played havoc on global commodity prices, and this translated into an extremely volatile environment for stocks that had investors looking to lock in their gains. China's stock market has dropped precipitously this year, which led their government to embark on a number of aggressive policies which were meant to stabilize the market. With stock trading seemingly becoming a national sport in China over the past couple of years, the addition of many amateur traders/investors to the market just ratcheted up the volatility. This volatility spilled over to North American, European and Asian markets, which led to some pretty dramatic swings in August.
The continued uncertainty over pending interest rate increases in the United States also added some volatility to the markets in the third quarter. Earlier in the year, the FOMC was largely expected to OK an interest rate increase in September. The volatility in the markets in August, however, was a contributing factor in the FOMC deciding to hold off on the planned increase. Some experts felt as though the Federal Reserve had missed their window of opportunity to raise rates, though Fed Chairwoman Janet Yellen recently stated that an increase is still a possibility in 2015.
There are some who believe that the Federal Reserve should be raising rates right away, while others believe that the Fed is right to show restraint. Bears believe that with each passing day, the chance of another cataclysmic economic downturn increases and that if this does take place, the Federal Reserve would not have the weapons to pull the country out of a tailspin if interest rates are still close to zero.
-
The start of the fourth quarter will also bring the start of earnings season. Investors will be curious as to how the nation's largest companies are coping with a stronger US dollar and decreasing commodities prices.
Filed under:
General Knowledge