DraftKings, Fanduel To Ban Employees From Playing For Real Money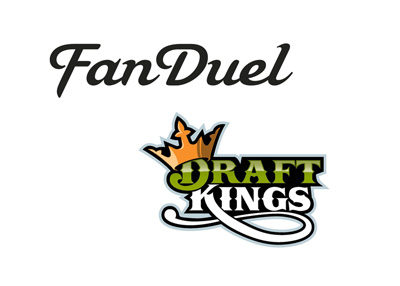 The daily fantasy sports industry, which has grown in leaps and bounds over the past couple of years, is currently suffering through its first real crisis.
Last week, an employee at DraftKings, one of the 800 pound gorillas of the daily fantasy sports industry (Fanduel is the other), inadvertently released player ownership data before the start of the third week of NFL games. This same person ended up winning $350,000 at Fanduel later in the week, and it was also revealed that this person had won quite a bit of money in other contests. Note: in daily fantasy sports, participants pick a "team" of players every week. Entering a team usually costs money, with real cash prizes going to the participants who pick the best teams.
Now, player ownership data is very valuable in the hands of a knowledgable daily fantasy player. If a well-known player on the Chicago Bears, for instance, is owned by only 2% of the players in a tournament, adding this player can be very advantageous if they have a big week, as only a small fraction of people will benefit from his big performance. Conversely, if a player (such as Karlos Williams of the Buffalo Bills this past weekend, for instance) is owned by the majority of the participants in a daily fantasy football tournament, "fading" this player (or leaving him off your roster) can also be a very big advantage. If Williams has an off week, anybody who has him on their teams will likely not do well.
According to reports, this DraftKings employee took his player ownership data and used this information to make money in Fanduel tournaments. This, at the time, was not against DraftKings' rules, though the very act of using "insider information" that was not available to the public to make money obviously left a bad taste in the mouth of many. After all, this employee was using "insider information" to gain an advantage over people who were playing legitimately.
After this information was made public, DraftKings and Fanduel both enacted temporary rules to prevent their employees from playing in real money daily fantasy contests until some sort of formal, industry-wide policy can be enacted. The damage to the young industry, however, has already been suffered.
-
DraftKings and Fanduel both have billion dollar valuations. DraftKings has accepted equity investments from the National Hockey League and Major League Baseball, while FanDuel counts the NBA and Time Warner as equity holders. In addition, a number of NFL owners have chosen to invest in Fanduel. Both DraftKings and FanDuel have accepted hundreds of millions of dollars in financing.
The "daily fantasy sports" industry combines traditional fantasy leagues with sports betting. In exchange for paying an entry fee, participants can leverage their knowledge of sports to enter teams into massive tournaments and potentially win millions of dollars. Many have cried foul over the industry, claiming that it is nothing more than glorified sports betting. The UIGEA, which outlawed real money online poker in the United States in 2006, had a carve-out for fantasy sports which has allowed the daily fantasy sports industry to thrive.
Many people are pointing to this recent "insider information" fiasco as the reason why the government needs to step in and regulate the industry. There is just too much money being splashed around the industry, they say, which leaves people ripe to be swindled.
-
It will be interesting to see the impact that this story has on the industry. Much like the recent Ray Rice and Tom Brady situations in the NFL, I suspect that both DraftKings and Fanduel will skate through these recent stories without taking too much damage.
Source:
Scandal Erupts in Unregulated World of Fantasy Sports
Filed under:
General Knowledge