Saudi Arabia vs Russia Set To Open World Cup Tournament
Click Here To Bet on Russia vs Saudi Arabia
Bet365 is the personal sportsbook of choice for Dave Manuel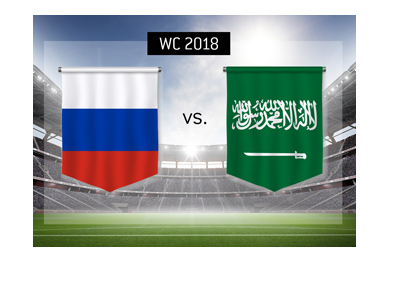 The host nation of the 2018 World Cup, Russia, will look to get their tournament off to a good start on June 14th when they take on Saudi Arabia.
While Russia certainly isn't one of the favourites to win the tournament, they are expected to get out of Group A with little difficulty. Saudi Arabia is not expected to pose much of a threat, as evidenced by the odds posted below.
Russia qualified for the tournament automatically due to being the host nation, while Saudi Arabia made it through after finishing as the runners-up in AFC Third Round Group B. This will be Russia's 11th appearance in the World Cup, while Saudi Arabia will be playing for the 5th time. Saudi Arabia's last appearance came in 2006.
Russia's best ever finish in the World Cup came in 1966 when they finished in fourth place, while Saudi Arabia made it to the Round of 16 in 1994. Neither team is expected to duplicate these performances this year.
Russia's team is comprised mainly of older and experienced players that play in the Russian Premier League. Of the 23 players currently on their World Cup squad, only two of Russia's players play outside of the Russian Premier League - Vladimir Gabulov (Club Brugge) and Denis Cheryshev (Villarreal). CSKA Moscow and Zenit Saint Petersburg are very well represented on this team.
For Saudi Arabia, all of their current players play professionally in Saudi Arabia.
-
Russia will benefit from playing in front of a very rambunctious crowd and this shows in the odds for the match. Here are the current odds, courtesy of Bet365:
Source: Bet365
Time Stamp:
June 8th, 2018 9:11 am EST
Odds Subject to Change
Russia, 1.36
Draw, 4.33
Saudi Arabia, 10.00
As you can see, Saudi Arabia is a big underdog and the bookmakers are essentially telling you that they have no shot in this match. The odds on Saudi Arabia might as well be 100.00.
Here is the over/under line:
Over 2.5 goals, 2.15
Under 2.5 goals, 1.66
Here is the draw no bet line:
Russia, 1.083
Saudi Arabia, 8.00

Russia and Saudi Arabia are playing in a group that includes Uruguay (Suarez) and Egypt (Salah). Both teams will be looking at this opening match as a must-win, as the group is deceptively tough.
Filed under:
General Knowledge