Definition of Canvassing
What does the term "canvassing" mean as it applies to the world of politics? What is meant by the term canvassing?
When it comes to the world of politics, "canvassing" refers to the act of locating supporters and soliciting their votes.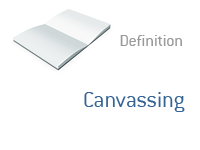 A great deal of "canvassing" is done over the phone, but other methods are used as well (Internet, door-to-door canvassing, etc.)
The purpose of "canvassing" is to identify supporters and attempt to solicit their support for an upcoming vote. If the person has pledged their allegiance to another party or is currently on the fence about who to vote for, a canvasser can also outline the party's stances on certain subjects to try to win back the support of the voter.
Canvassers have an important job - they make party supporters aware of an upcoming vote. Political parties and other factions obviously depend heavily on their hardcore supporters to win votes/elections.
--
Davemanuel.com Articles That Mention
Canvassing:
None