What is Clayton Kershaw's Net Worth?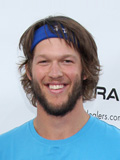 Name:
Clayton Kershaw
Born: March 19th, 1988
Company: Los Angeles Dodgers
Position: Pitcher
Clayton Kershaw currently has a
net worth
of an estimated:
$25,000,000
Information:
Clayton Kershaw is one of the most dominant pitchers in Major League Baseball.
Despite the fact that he is still in his 20s, Clayton Kershaw has already amassed an impressive collection of rewards, including 3 Cy Young awards, 5 all-star appearances and a National League MVP nod. The left-handed pitcher, who has played for the Los Angeles Dodgers for the entirety of his career, has drawn comparisons with some of the best pitchers of all-time, including Sandy Koufax.
Kershaw, who was drafted seventh overall by the Dodgers in the 2006 MLB Draft, toiled for just a single season in the minor leagues before making his MLB debut. At the time of his debut, Kershaw was the youngest player in Major League Baseball. After being briefly sent back down to the minors, Kershaw was called back up and finally stuck with the big club.
Kershaw, who has a career ERA of less than 2.50, is a tall pitcher with a deceptive style. In addition to his reliable fastball, Kershaw is able to cross up opposing pitchers with a nearly unhittable curveball, as well as a 84-87 mph slider. In addition to incredible skills as a pitcher, Kershaw is also known as being one of the best fielding pitchers in all of baseball.
Clayton Kershaw has been remarkable consistent over the course of his career, with his best seasons coming in 2011 (21-5, 2.28 ERA) and 2014 (21-3, 1.77 ERA). Many people feel, however, that in order for Kershaw to be truly considered as one of the best pitchers of all time, he needs to lead the Dodgers to a World Series title.
--
Major League teams are always willing to shell out substantial amounts of money for excellent starting pitching, and Clayton Kershaw is no different. The Los Angeles Dodgers have one of the biggest payrolls in all of baseball, with Kershaw's contract contributing significantly to that total.
After earning $404,000, $440,000 and $500,000 in his first three seasons in the league, Kershaw inked a 2-year, $19 million deal with the Dodgers. Per the terms of the deal, Kershaw received $8 million in 2012 ($7.5 million salary plus a $500,000 signing bonus) and $11 million in 2013. By signing this deal, Kershaw and the Dodgers avoided arbitration - Kershaw had been asking for $10 million per season, while the Dodgers were offering $6.5 million.
After compiling 14-9 and 16-9 records in 2012 and 2013 respectively (with an unbelievable ERA of 1.83 in 2013), the Dodgers rewarded Kershaw with a monstrous 7 year, $215 million deal in January of 2014. Per the terms of the deal, Kershaw is set to make $32,571,000 in 2015, $34,571,000 in 2016 and at least $34 million from 2017-2020. Kershaw has the option to opt out of his deal following the 2018 season. Kershaw rewarded the Dodgers with one of the best pitching seasons of all time in 2014, as he compiled a record of 21-3 with an ERA of just 1.77.
If Kershaw does, in fact, opt out of his contract after the 2018 season, he would be able to sign another monster contract as he would be just 30 years of age. Assuming that he does play until his late 30s, this means that Kershaw will likely make $300 million+ in additional dollars over the rest of his career.
-
In addition to the money that he makes from his contract with the Dodgers, Kershaw also reportedly hauls in more than $1 million per year from his endorsement deals with Rawlings, Subway, Muscle Milk, Wilson, Time Warner Cable and Under Armour.
Notes:
Clayton Kershaw is worth
323
times more than the median US household
If Clayton Kershaw sold everything that they owned, they could fund the United States' deficit spending for
0
days.
This page last updated: January 17th, 2016
--
Note:
Net Worth changes calculated at 4 pm EST daily
The net worth pages are strictly for entertainment purposes only. The information on these pages is based on speculation and shouldn't be construed as being accurate in any way.