What is Conor McGregor's Net Worth?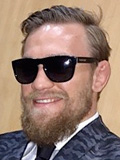 Name:
Conor McGregor
Born: July 14th, 1988
Company: UFC (Ultimate Fighting Championship)
Position: Fighter
Conor McGregor currently has a
net worth
of an estimated:
$120,000,000
Information:Last Updated:
January 12th, 2020 2:21 am EST
Conor "The Notorious" McGregor is the biggest star in the history of the UFC, and arguably the biggest star in the history of combat sports in general.
A few years ago, after Georges St. Pierre took his "hiatus" and Brock Lesnar returned to the WWE, the UFC didn't have much in the way of mega-stars. Fast forward two years and now the promotion has not one, but two superstars (McGregor and Rousey), who are arguably bigger than GSP and Lesnar ever were in terms of star power.
How did a Featherweight (or Lightweight or Welterweight) fighter become one of the biggest names in the mixed martial arts world?
Conor McGregor has a number of gifts, but one of his biggest is his ability to talk. As we witnessed with Chael Sonnen, the ability to trash talk and command a microphone is invaluable when it comes to building your brand and bank account in the UFC. Fans are mesmerized by every move that Conor McGregor makes, and potential opponents are lining up to fight him. McGregor fights (and weigh-ins, and press conferences) have become must-see events thanks to the incredible amount of work that he puts into promoting the fights and antagonizing his opponents. By the time that McGregor steps into the Octagon with his opponent, you honestly believe that he wants to kill his adversary and vice versa.
McGregor, who currently has a record of 20-3-0 as a professional and is the undisputed Featherweight champion, inked a multi-fight deal with the UFC in February of 2013. Since signing that deal, McGregor has gone 8-1, notching victories over Dennis Siver, Dustin Poirier, Diego Brandao, Max Holloway, Marcus Brimage, Chad Mendes, Nate Diaz and Jose Aldo. All but 2 of those fights resulted in a stoppage, and it was later determined that McGregor had torn his ACL in the fight against Holloway.
In addition to being able to command a microphone, McGregor also offers a fan-friendly fighting style. McGregor is a flashy striker with tremendous power that has stopped the likes of Dustin Poirier, Chad Mendes, Jose Aldo and Dennis Siver. In addition, McGregor has been eerily prescient in the way that he has been able to pinpoint the round in which he will stop his opponent.
--
At one point in his life, McGregor had resigned himself to working as a professional plumber. In 2008, McGregor elected to become a professional fighter. In 2009, after attending a UFC event, McGregor decided that he was going to go "all in" and dedicate himself to a life of fighting. This decision wasn't an easy one for him to make, as his father was adamantly opposed to McGregor pursuing his dream of becoming a fighter.
-
Thanks to his soaring value as a brand spokesman, McGregor has inked multiple deals with blue chip sponsors over the past number of years.
As of right now, McGregor has sponsorship/endorsement/partnership deals with the following companies:
Reebok
Bud Light
Monster Energy
Volvo
Dethrone Royalty Brand
McGregor was one of a handful of UFC fighters to sign his own apparel deal with Reebok.
In addition, "McGregor, Inc." was able to ink a deal with the UFC that includes a much higher win/show amount in addition to the "holy grail" of UFC contracts, PPV points. As we saw with the Georges St. Pierre and Brock Lesnar contracts, PPV points is where fighters really have the opportunity to hit the jackpot. According to reports, Conor McGregor made between $5-$10 million from both UFC 189, UFC 194, UFC 196 and UFC 202 (note: PPV points means that McGregor gets a cut of the PPV revenues). According to reports, UFC 196 ended up drawing in the range of 1.6 million buys, while UFC 202 did slightly better. UFC 202 was helped tremendously by the press conference melee that saw Nate Diaz leave halfway through the conference. Bottles and cans were tossed, words were exchanged and the PPV buys grew.
To illustrate the drawing power of Conor McGregor, a Jose Aldo headlined event would be lucky to break 200,000 buys. Throw Conor McGregor into the mix, however, and the buys suddenly soar over the 1 million mark. For a fighter like Jose Aldo, who likely has PPV points in his deal, fighting Conor McGregor was a dream-come-true that very likely resulted in the former Featherweight champion taking home a multi-million dollar payday.
Conor McGregor was originally slated to fight Rafael dos Anjos at UFC 196, though dos Anjos was forced to pull out of the fight due to an injured foot. This means that Conor's quest for a second title will have to wait.
After dos Anjos pulled out, a number of other fighters offered to square off against McGregor on short notice. In the end, Nate Diaz received the "golden ticket" and squared off against McGregor. Diaz won the fight via a second round RNC after getting bruised and bloodied by McGregor's big left hand.
Conor McGregor shocked the world on April 19th, 2016 when he stated via his Twitter account that he was "retiring young". UFC President Dana White pulled McGregor from the UFC 200 main event a short while later.
McGregor later posted a statement in which he said that he simply did not want to tirelessly promote UFC 200 and that he wanted to focus on training for Nate Diaz instead. The UFC responded by officially pulling Nate Diaz vs Conor McGregor from UFC 200.
Conor McGregor got his "revenge" at UFC 202 when he defeated Nate Diaz via majority decision. The fight was an all-time classic, with McGregor starting out quickly, only to fade in the second half of the second round. After looking like he was going to lose in the third round, McGregor found another gear and ended up winning the fight.
-
Conor McGregor became the first person to ever hold two titles at the same time after destroying Eddie Alvarez in the main event of UFC 205 in the second half of 2016.
The win cemented McGregor's status as the biggest name in combat sports and netted him another $10 million+ payday.
Conor McGregor got his wish when the UFC was able to work out a deal with Floyd Mayweather for a boxing match between the two men.
After making an estimated $100 million payday from his fight against Floyd Mayweather (in which Conor McGregor exceeded expectations by lasting almost a full ten rounds), McGregor continued to diversify his business interests, including the launch of his Proper 12 whiskey, which has done some pretty stellar sales.
After openly wondering if he would ever fight again, McGregor made his return against Khabib Nurmagomedov at UFC 229, with Khabib retaining his title via fourth round submission. There was a tremendous amount of bad blood between the two men, and this helped to create the best selling PPV of all time, with more than 2 million in total PPV sales. According to reports, McGregor made an estimated $30-$40 million for this fight, not including other perks including the advertising of his Proper 12 whiskey brand.
McGregor will be making his return to the Octagon at UFC 246, where he will be squaring off against Donald Cerrone in the main event. While Cerrone and McGregor donít have much in the way of bad blood, Cerrone fights a fan-friendly style, and the PPV should sell very well.
If McGregor wins against Cerrone, there is a strong possibility of a rematch against Khabib Nurmagomedov later in the year, which would later break the all-time PPV record, given the events that transpired after the first Khabib/McGregor fight.
Also Known As:
The Notorious
The Celtic Tiger
Notes:
Updates:
July 15th, 2017 - updated to include the upcoming Mayweather fight
January 12th, 2020 - updated to include the Khabib and Donald Cerrone fights
--
Conor McGregor is worth
1,552
times more than the median US household
If Conor McGregor sold everything that they owned, they could fund the United States' deficit spending for
0
days.
--
Note:
Net Worth changes calculated at 4 pm EST daily
The net worth pages are strictly for entertainment purposes only. The information on these pages is based on speculation and shouldn't be construed as being accurate in any way.