What is Donald Trump's Net Worth?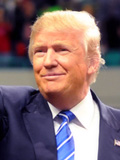 Name:
Donald Trump
Born: June 14th, 1946
Company: Many
Position: Businessman, Presidential Candidate
Donald Trump currently has a
net worth
of an estimated:
$8,000,000,000
Information:
Much is made of Donald Trump's net worth. Donald Trump has made his net worth a central plank of his Presidential campaign, as he believes that his net worth demonstrates his ability to successfully lead the United States as its President. I have built many successful businesses over my lifetime, Donald Trump says, so I have what it takes to lead the country.
There is no doubt that Donald Trump is very, very rich. People will attempt to discredit Trump by pointing out the bankruptcies of some of his businesses over the years, but there is no doubt that he has enjoyed a great deal of successes as well.
--
Donald Trump's personal financial disclosure is a 92 page tomb that reads like the Magna Carta. Of all of the personal financial disclosures that I have seen, Donald Trump's is certainly one of the most complex.
Donald Trump has over 500 companies in which he holds a position, most as President. These companies range from Turnberry Scotland LLC to Trump Central Park West Corp. to Trump Ferry Point LLC.
Trump has an extremely extensive list of assets, including numerous real estate ventures that are valued into the many tens of millions of dollars. In addition, Trump has a diversified investment portfolio, as he owns many of the most recognizable stocks in the world, as well as pieces of some of the largest hedge funds in the industry.
One of Trump's largest single positions is in Blackrock's Obsidian Fund, in which he has between $25-$50 million parked.
In addition, Trump reportedly has over $300 million in cash and other ultra-liquid investments, as well as a penthouse worth $90 million, other properties around the world, wineries and even two helicopters.
Donald Trump realizes income from a number of different places. His biggest sources of income are rent from his various commercial properties and revenues from his golf courses, though he also pulls in enviable amounts of money from management fees (from companies such as THC Baku Hotel Manager Services LLC, THC Rio Manager LLC and Trump Chicago Commercial Manager LLC) and speeches. According to the personal financial disclosure, Trump brought in as much as $450,000 per speech in 2014.
Trump's assets range from high profile properties in New York City (Trump Park Avenue, 40 Wall Street) to golf clubs across the world to ownership in hundreds of different companies, both private and public, to cash to pieces of hedge funds to helicopters to penthouses.
With his assets, Trump also has some significant liabilities, including over $50 million being owed to Ladder Capital Finance LLC (the mortgage on Trump Tower Commercial LLC), Capital One (40 Wall Street LLC mortgage) and Deutsche Bank Trust Company Americas (Trump National Doral mortgage). Almost all of Trump's debts pertain to his commercial properties and golf courses, and those are valued at substantially more than what Trump currently owes.
-
There has been some argument over the value of Donald Trump's brand and brand-related deals - the Trump side value this at over $3 billion, while Forbes gives a value in the hundreds of millions of dollars.
Regardless of how much you think that the Trump brand is worth, know this - Donald Trump is absolutely correct when he says that he is very, very rich.
Also Known As:
The Donald
Notes:
Donald Trump is worth
103,493
times more than the median US household
If Donald Trump sold everything that they owned, they could fund the United States' deficit spending for
2.7
days.
This page last updated:
--
Note:
Net Worth changes calculated at 4 pm EST daily
The net worth pages are strictly for entertainment purposes only. The information on these pages is based on speculation and shouldn't be construed as being accurate in any way.