What is Steph Curry's Net Worth?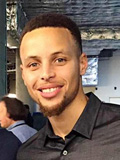 Name:
Steph Curry
Born: March 14th, 1988
Company: Golden State Warriors
Position: Point Guard
Steph Curry currently has a
net worth
of an estimated:
$35,000,000
Information:
Steph Curry is en route to becoming one of the greatest NBA players of all time.
Despite his smaller stature and suspectibility to injuries early in his career, Steph Curry has blossomed into one of the NBA's premier players. By the age of 28 years old, Curry had already won two NBA MVP awards, including the first unanimious vote in the history of the league. Curry has shattered many records over the course of his career, including the record for most three-pointers in a season (402). The distance between Curry and the next closest person (other than himself) when it comes to that record is eye-popping - some say that it is a record that may never be broken.
-
Curry, the son of NBA player Dell Curry, played his college ball at Davidson. Curry made a big splash at Davidson, setting the NCAA record for most 3s in a season. Curry parlayed this strong performance at college into a 7th overall selection in the 2009 NBA Entry Draft, where he was selected by the Golden State Warriors.
Curry had a strong rookie season, finishing second in Rookie of the Year voting to Tyreke Evans. Things temporarily went south after that for Curry, however, after he suffered multiple injuries to his feet. In fact, when Curry signed his second contract with the Warriors, some felt as though the team was taking too big of a risk due to Curry's history of injuries.
Curry has signed two deals so far with the Golden State Warriors - a four year rookie deal for $12.7 million and a 4 year extension for $44 million. Here is a breakdown of the salaries by year:
2009-10 - $2,710,560
2010-11 - $2,913,840
2011-12 - $2,508,901
2012-13 - $3,958,742
2013-14 - $9,887,642
2014-15 - $10,629,213
2015-16 - $11,370,786
2016-17 - $12,112,359
Curry is a free agent after the 2016-17 NBA season and will command a massive contract, especially with the salary cap set to increase dramatically. Curry, thanks to the fact that he will have eight years of service under his belt, will be entitled to receive a 5 year deal at 30% of the Golden State Warriors' salary cap after the 2016-17 season, provided that a lockout or strike doesn't result in a change to the league's CBA. Given the expected increase to the salary cap, Curry's deal would be worth well north of $30 million per year.
--
Curry's strong Christian faith and attachment to his family makes him a marketer's dream, which is why Under Armour, Degree, JBL, Brita and JP Morgan Chase have all signed him to endorsement deals.
Nike had the chance to sign Curry to an endorsement deal several years ago but (reportedly) famously botched their presentation. This led Curry to sign with Under Armour, a deal which was recently renewed. In addition to receiving a yearly payment, Curry is also entitled to royalties and an equity stake in the company. With Curry's shoes selling extremely well, this is sure to be a very lucrative deal for both sides. Curry is signed to Under Armour through the 2024 season.
According to reports, Steph Curry is making between $12-$15 million per season from endorsements.
-
Curry is already doing extremely well for himself. After the 2016-17 NBA season, however, his financial numbers will really start to skyrocket, thanks to his new deal with the Golden State Warriors and increasing sponsorship revenues.
Notes:
July 3rd, 2016 - added information on Curry's expected contract value after the 2016-17 season.
--
Steph Curry is worth
453
times more than the median US household
If Steph Curry sold everything that they owned, they could fund the United States' deficit spending for
0
days.
This page last updated: May 10th, 2016
--
Note:
Net Worth changes calculated at 4 pm EST daily
The net worth pages are strictly for entertainment purposes only. The information on these pages is based on speculation and shouldn't be construed as being accurate in any way.