What is Tom Brady's Net Worth?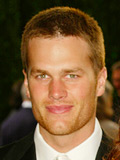 Name:
Tom Brady
Born: August 3rd, 1977
Company: New England Patriots
Position: Starting Quarterback
Tom Brady currently has a
net worth
of an estimated:
$110,000,000
Information:
On his own, Tom Brady has a net worth of roughly $110 million, thanks to his 15+ years of collecting a salary from the New England Patriots plus an estimated $7 million/year in endorsement deals from Movada, Under Armour and Ugg.
When factoring his wife, former supermodel Gisele Bunchen into the conversation, however, Brady's net worth skyrockets to over $500 million. Bunchen has a net worth that approaches $400 million thanks to partnerships with blue chip brands such as Chanel, Under Armour and Pantene.
--
Tom Brady was chosen in the sixth round of the 2001 NFL Draft by the New England Patriots. It is rare when a sixth round pick makes the NFL, let alone becomes one of the greatest players in the history of the NFL.
Brady's big break came during the 2001 season when the Patriots starting QB at the time, Drew Bledsoe, was sidelined due to internal bleeding. Brady took over during the second week of the season and was ineffective to start - by Week 5, however, Brady had hit his stride and was posting very big numbers. Brady's dream season continued right into Super Bowl XXXVI when he led his team to a win over the heavily favored St. Louis Rams. In the offseason, the Patriots traded away Drew Bledsoe, and Tom Brady has held the starting position ever since.
Over the course of his career, Brady has won four Super Bowls and been named to the Pro Bowl ten times. Tom Brady is widely regarded as being one of the best QBs to ever play the game, with many people putting him on the same level as Joe Montana and John Elway. There is no doubt that Tom Brady will be going into the Hall of Fame.
Brady has done very well for himself over the course of his career, netting roughly $150 million in salary and bonuses from the New England Patriots. His biggest earning year came in 2010, when he collected $7.5 million in salary and a $16 million signing bonus. His original deal saw him earn $193,000 in salary and a $38,500 signing bonus in his rookie year in the NFL.
Here is an overview of Brady's contracts to date:
June 24th, 2000 - 3 year, $866,500 deal
August 28th, 2002 - 5 year, $32.5 million deal
May 8th, 2005 - 6 year, $57.3 million deal
September 9th, 2010 - 5 year, $78.5 million deal
February 23rd, 2013 - 3 year, $27 million deal
Tom Brady is seen by many as being unselfish thanks to his willingness to restructure deals in order to help the Patriots with their salary cap flexibility.
-
The seemingly untouchable Tom Brady took a hit to his image in February of 2015 when allegations arose that the Patriots QB had purposely under-inflated footballs ahead of his team's AFC Championship game against the Indianapolis Colts.
The allegations turned into real punishment for both Brady and the Patriots, as Brady was suspended for four games while the Patriots were fined draft picks and a large sum of money.
Brady, however, was unwilling to accept the punishment and the battle between the two sides went to federal court. A judge sided with Tom Brady and he had his suspension rescinded. The NFL has appealed the ruling.
-
Tom Brady has parlayed his talents as a NFL quarterback into a vast fortune. Given the size of Tom and Gisele's bank account, don't be surprised if Brady ends up getting involved on the ownership side of the NFL once his career draws to a close.
Notes:
Tom Brady is worth
1,423
times more than the median US household
If Tom Brady sold everything that they owned, they could fund the United States' deficit spending for
0
days.
--
Note:
Net Worth changes calculated at 4 pm EST daily
The net worth pages are strictly for entertainment purposes only. The information on these pages is based on speculation and shouldn't be construed as being accurate in any way.