Where To Buy Gold American Eagles
Click Here To Buy Gold American Eagles
In these uncertain economic times, owning a defensive asset such as gold or silver just makes sense.
There is a reason why gold has been on such a tear over the past 3-4 years - people are very worried about the markets, and they are also worried that certain government policies may eventually lead to hyperinflation. In an inflationary or even hyperinflationary environment, owning a defensive asset such as gold just makes sense.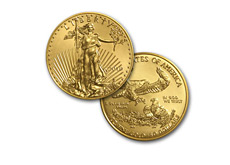 If you are thinking about making an investment in gold, then purchasing a Gold American Eagle is a smart choice. However, whenever there is an increase in demand for any asset, fraudsters pop up and try to take advantage of people.
If you are looking for a reputable company to buy your Gold American Eagle through, APMEX (The American Precious Metals Exchange) is the company for you.
To start,
APMEX has an A+ Rating from the Better Business Bureau
(BBB) (link will take you to their BBB page).
In addition, APMEX is one of just 13 companies worldwide that is allowed to purchase certain precious metals directly from the US Mint.
APMEX is based out of Oklahoma City, Oklahoma.
One last thing - APMEX is open 24/7, and can process your order at any time of the day.

Now let's take a bit about the Gold American Eagles.
The American Eagles were introduced in 1986. The American Eagle gold bullion series features a nest of eagles, which is meant to signify the strength and security of the typical US family.
The Gold American Eagles are available in four sizes: 1 ounce, 1/2 ounce, 1/4 ounce, 1/10 ounce. Even if you don't have the money to pay for a full ounce, then you can certainly take advantage of one of the 1/10th ounce coins.
Click Here to See The Current Collection of Gold American Eagles
--
APMEX offers a number of different payment options, including Visa, Mastercard, Discover, bank wire, personal check, money order, etc. The site can ship to a number of different countries as well, including Canada, the United Kingdom, etc.
Orders usually ship within 1-3 days. Packages are all fully insured and sent via registered US Mail, UPS and Federal Express.
Click Here To Buy Your Gold American Eagle Today!
Filed under:
Company Reviews