CEOs of Tesla Motors, Netflix Warn Against Overexuberance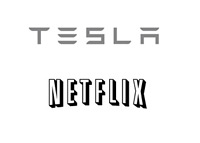 It's quite something when the CEO of a company warns investors about getting too carried away and driving shares of their company too high, but that's exactly what Elon Musk and Reed Hastings have done over the past week or so.
When you think of stocks that have done exceedingly well over the past 12 months or so, Tesla Motors and Netflix should be near the top of your list. Netflix has traded from the high $60s to $328.03 over the past 12 months, while shares of Tesla Motors have ramped up from the mid $20s to $169.66 over the same period of time.
Elon Musk, CEO of Tesla Motors, and Reed Hastings, CEO of Netflix, have seen their fortunes soar over the past 12 months. Musk has done particularly well, adding many billions of dollars to his net worth since October of 2012.
However, both Musk and Hastings are warning investors against getting too carried away.
Hastings, during the recent Q3 conference call for Netflix, used the word "euphoria" to describe how shares of Netflix have been trading as of late. He also said that "momentum traders are driving the price more than we like normally."
Elon Musk, on the other hand, noted that "the stock price that we have is more than we have any right to deserve" when asked about the parabolic rise in shares of Tesla Motors. Musk, in fact, has spoken out multiple times about the price of Tesla's shares in the past, but this has done little to slow investors from continuing to accumulate shares of the company.
Short sellers have been vocal about both Netflix and Tesla Motors in the past, but many have now retreated after suffering substantial losses over the past 12 months. It's hard to argue that either Netflix or Tesla Motors is undervalued or even fairly valued, but that hasn't stopped shares of either company from continuing to trend higher.
--
What do you think about the warnings from Hastings and Musk?
Source: CNN.com -
Elon Musk Warns About Tesla's Stock Price
Filed under:
General Market News