Citron Research Promises to "Update Full Story on Monday"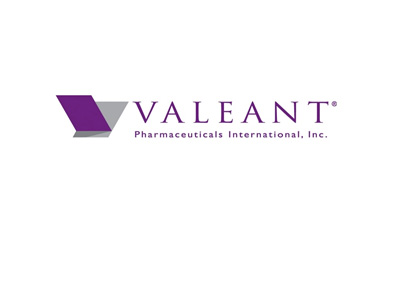 The extreme volatility of Valeant Pharmaceuticals International is surely set to continue next week, thanks to a spate of new media coverage over the weekend and a promised "update" from short-seller Andrew Left of Citron Research.
Last week was certainly an eventful one for shareholders of VRX, which has been under incredible pressure as of late. The relationship between Valeant and Philidor was put squarely in the spotlight by Andrew Left, who claimed that Philidor operated a network of "phantom captive pharmacies". Left accused Valeant of accounting fraud and compared the company to Enron.
The claims from Citron Research resulted in shares of VRX tanking, which led to big declines for the likes of Pershing Square Capital Management, which currently owns a very large stake in the company. Bill Ackman, of Pershing Square, revealed that the hedge fund had purchased another two million shares of the company and that they continue to remain confident in the company's prospects. As a matter of fact, Ackman pointed to a scandal involving American Express that took place decades ago as a reason why VRX shareholders shouldn't be too disillusioned. At the time, young Warren Buffett elected to purchase a substantial stake in the company, arguing that the core business was still intact. Ackman argues that the same buying opportunity is presenting itself with Valeant right now.
Other investors, however, seem to disagree. Bill Ackman held a four hour conference call on Friday in which he attempted to defend Valeant. Investors weren't buying what they were hearing, however, as shares of the company closed down 16% at $93.77. This means that shares of the company are now down well over 50% from just a few months ago.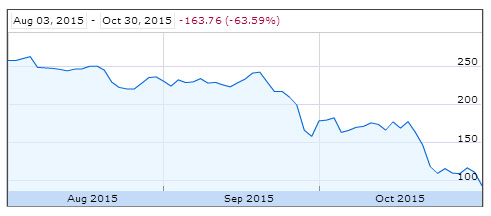 Despite the insistence from Valeant and Bill Ackman that things are fine, investors are seemingly waiting for the next piece of bad news to drop. For that reason, you can forgive investors for not wanting to hold the stock through the weekend, as there is a seemingly unending flow of negative news surrounding Valeant right now.
In addition, Citron Research is promising a "further update" on Monday and says that the story is much "dirtier" than first imagined.
-
In short - you can likely expect further + or - 20% moves from Valeant Pharmaceuticals this week. I can't advise you on what to do, but I know that I will be staying far, far away from Valeant for now.
Filed under:
General Market News