Egypt vs Uruguay Set For Group A Clash
Click Here To Bet on Uruguay vs Egypt
Bet365 is the personal sportsbook of choice for Dave Manuel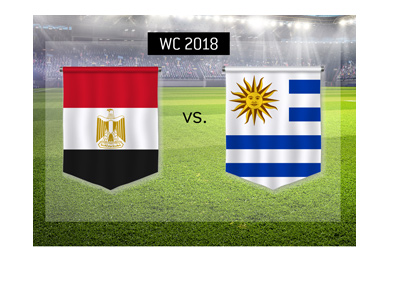 Normally a match between Egypt and Uruguay wouldn't draw that much attention, though this game will feature three of football's brightest stars - Mohamed Salah, Luis Suarez and Edinson Cavani.
Group A is going to be a deceptively difficult group to advance from, as Russia, Uruguay and Egypt all have aspirations of making it through to the next round. While most expect that host Russia and Uruguay will go through, Salah and the Egyptian team will be doing their best to play spoiler.
Uruguay qualified for the World Cup after finishing runners-up in the CONMEBOL Round Robin, while Egypt qualified after winning Group E of the CAF Third Round.
This is going to be Uruguay's 13th appearance in the World Cup, while Egypt will be making their third appearance. Uruguay are former winners of the World Cup, having won in both 1930 and 1950.
Egypt will be depending greatly on the boot of Salah, while Uruguay will be drawing from a much more balanced pool of talent. Uruguay will obviously be trying their best to shut down Salah, while Egypt will need to contain a multi-pronged attack from Suarez and Cavani. I wouldn't be surprised if Egypt tries their best to get under the skin of Suarez, who has been known to lose his cool in big matches.

Let's take a look at the odds for this match, courtesy of Bet365:
Source: Bet365
Time Stamp:
: June 8th, 2018 9:19 pm EST
Odds Subject to Change
Full Time Result
Egypt, 6.50
Draw, 3.60
Uruguay, 1.57
As you can see, Uruguay is better than even money to win the game outright, while a successful wager on Egypt would result in a total profit of $550.
The over/under for this game is set at 2.5 goals:
Over 2.5 goals, 2.40
Under 2.5 goals, 1.53
The bookmakers expect that Egypt will try their best to stifle Uruguay's offensive attack while relying on Salah to generate almost all of their offence. Don't expect too much open field in this one as Egypt tries their best to fend off the Uruguay attack.
Both Teams to Score?
Yes, 2.37
No, 1.53
The "yes" side is a slight favourite as the bookmakers believe that Egypt will have a tough time mounting any offence in this game, which leads to the strong possibility of a clean sheet for Uruguay.
Draw No Bet
Egypt, 4.33
Uruguay, 1.20
Eliminate the possibility of a draw from the equation and Uruguay has the clear edge, as it is hard to imagine Egypt pulling off a victory.
Goal Scorers (Anytime)
Luis Suarez, 2.10
Edinson Cavani, 2.25
Cristhian Stuani, 2.87
Maximiliano Gomez, 2.87
Mohamed Salah, 3.60
The fact that Salah is 3.60 to score should tell you how much trouble the bookmakers expect Egypt to have when it comes to penetrating the defence of Uruguay. Suarez and Cavani, on the other hand, are both roughly coin flips to score.
Filed under:
General Knowledge