Breaking Bad: Complete Series Review
Click Here To Buy The Complete Breaking Bad Series - Save 39%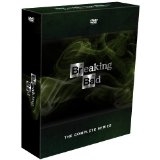 Click Here To Buy Breaking Bad on DVD
Currently 39% Off (Amazon)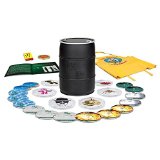 Click Here To Buy Breaking Bad on Blu Ray
Currently 41% Off (Amazon)
Amazon.com is currently offering deep discounts on the "Breaking Bad" television series. Order directly from Amazon.com by clicking the link above and you will be able to receive your collection in just a couple of days.
"Breaking Bad" has been called one of the best series in the history of television. Bryan Cranston, appearing as former teacher turned drug kingpin Walter White, is astonishing in his portrayal of the character. It really is incredible to witness the transformation that Walter White undergoes (both physical and mental) as the series wears on.
The rest of the performances on the series, including those given by Dean Norris, Anna Gunn, Giancarlo Esposito and Bob Odenkirk, are off the charts great as well. Breaking Bad was an extremely well-written and captivating piece of art that finished at just the right time, which is a rarity in today's television landscape.
-
Here are the prices for the DVD and Blu Ray collections:
DVD - $98.70 (savings of 39%)
Blu Ray - $175.95 (savings of 41%)
The DVD collection is a fairly straight forward offering that contains 21 discs and 2,952 minutes worth of content. The collection contains a two hour documentary on the making of the first season of the show and a discussion with Cranston and Aaron Paul in which they talk about their favorite moments from the show.
The Blu Ray collection, aka the "Barrel Set", comes in a commemorative "money barrel". In addition, purchasers of this collection will also receive an additional 55 hours of bonus material, a Los Pollos Hermanos apron and a "Better Call Saul" matchbook 4GB flash drive.
Sure, it's money compared to the DVD collection, but all of the extras that are included in the "barrel set" make this well worth it.
-
The "Breaking Bad" DVD and Blu Ray sets are extremely well reviewed on Amazon.com. If you are a fan of the show, this is the perfect item to have sitting on your shelf for whenever you need to get your Breaking Bad fix.
If you know somebody who is a fan of great television and hasn't yet watched this show, I would recommend buying them one of these two sets and blowing their minds. The show is just that good.