Definition of After the Bell
What does the term "after the bell" mean? What is meant by the term "after the bell"?
The term "after the bell" refers to the period of time after the close of the markets when companies will usually release their earnings reports and other big pieces of news.
If you have watched CNBC or a similar financial news network, then you have almost surely heard the term "after the bell" being used. The markets close at 4 pm EST, and anything that occurs after this point, is said to be occurring "after the bell".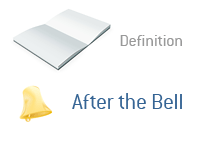 Companies will usually release their earnings reports shortly after the bell, as well as hold their earnings conferences.
Investors are able to trade "after the bell" in the "aftermarket", but liquidity is quite a bit lower which can result in some large swings in either direction.
Companies usually release their earnings after the bell so that investors have a chance to read and digest the data before the opening bell the next day. If companies released their earnings in the middle of the trading day, then there would be excess volatility thanks to investors acting on every piece of information that is being released piecemeal. Releasing earnings after or before the bell allows investors the chance to read over the earnings report before acting on it the next day.
Most companies will release their earnings shortly after the closing bell and then hold their earnings conferences roughly an hour after the close. Analysts will usually digest the news and then release their thoughts on the report the following morning.
--
Davemanuel.com Articles That Mention
After the Bell:
Apple Inc. Up 56% Over Past 12 Months
Bill Ackman Throws In The Towel on Valeant
Carl Icahn and Bill Ackman Continue Their Very Public Feud
Q3 Earnings Season Picks Up This Week With Reports From Banks, Netflix
Explosive Move in Swiss Franc Causes Havoc and Steep Losses