What is Serena Williams's Net Worth?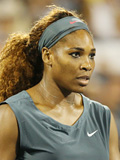 Name:
Serena Williams
Born: September 26th, 1981
Company: n/a
Position: Professional Tennis Player
Serena Williams currently has a
net worth
of an estimated:
$125,000,000
Information:
Serena Williams is widely considered to be one of the top tennis players of all-time. The amazing thing about Serena Williams is that she is seemingly getting more dominant as she gets older. While other players start to tail off at the age of 30 onwards, Williams seems to be only getting better.
At the time of this entry, Serena Williams had 21 Grand Slam titles and over $70 million in total lifetime tournament cashes. Serena has a staggering singles winning percentage of over 85% over the course of her career. Before her career is over, Serena Williams will almost certainly pass both Margaret Court and Steffi Graf on the all-time Grand Slam title list.
--
Serena Williams turned professional at the tender age of 14 years old. In her early years, Serena was getting pummeled by her opponents. As the years went by, Serena started to grow into her body and was soon over-powering her opponents. Serena's game relies on a strong serve (many people believe that she has the best serve in the history of women's tennis) and a strong baseline game. There is literally nobody on the professional tour who can outmuscle Serena on the court. When Serena is on her game and in the zone, she is practically unbeatable.
Serena's breakthrough came in 1999 when she won the US Open. Serena has absolutely dominated at the US Open over the years, and the tournament has contributed greatly to her Grand Slam title total. In fact, the only Grand Slam event that Serena hasn't dominated over the years has been the French Open.
Let's take a look at Serena's collection of Grand Slam titles until current day:
Australian Open - 2003, 2005, 2007, 2009, 2010, 2015
French Open - 2002, 2013, 2015
Wimbledon - 2002, 2003, 2009, 2010, 2012, 2015
US Open - 1999, 2002, 2008, 2012, 2013, 2014
In addition, Serena has won the Tour Finals five times (2001, 2009, 2012, 2013, 2014) and also has an Olympic gold medal (2012 Olympics) to her name.
-
Serena's success has translated to a number of lucrative endorsement deals with the likes of Nike, Gatorade, Delta Airlines, Audemars Piguet, Aston Martin, Pepsi, Beats by DRE, Mission Athletecard, Berlei bras, OPI Products, OnePiece and Chase Bank. According to reports, Serena rakes in approximately $13-$14 million per year from her endorsement deals. Despite her sometimes prickly nature, Williams has done extremely well for herself and has secured many blue-chip endorsement deals.
In addition to all of that, Serena also has her own lines of handbags and jewelry and is also a minority owner of the Miami Dolphins, along with her sister Venus.
With her strong performance over the past 12 months or so, Serena's sponsorship value continues to increase.
With the tournament cashes and endorsement dollars continuing to roll in, I feel very confident pegging Serena's net worth at approximately $125 million.
Notes:
Serena Williams is worth
1,617
times more than the median US household
If Serena Williams sold everything that they owned, they could fund the United States' deficit spending for
0
days.
--
Note:
Net Worth changes calculated at 4 pm EST daily
The net worth pages are strictly for entertainment purposes only. The information on these pages is based on speculation and shouldn't be construed as being accurate in any way.