Yellen Will Become First Woman To Lead Federal Reserve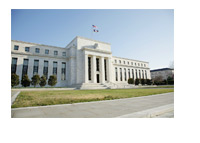 Depending on the weather, Janet Yellen should be officially confirmed by the Senate as the first chairwoman of the Federal Reserve on either Monday or Tuesday of this week.
Janet Yellen's confirmation is a mere formality at this point, as a simple Senate majority is needed, where the Democrats currently have control.
Janet Yellen is not only slated to become the first chairwoman in the history of the Federal Reserve, but she is only going to be the first Democratic nominee to lead the Fed in nearly 35 years.
—
Yellen's biggest task as chairwoman of the Federal Reserve? To oversee the continued wind down, or "tapering", of the Federal Reserve's $85 billion/month bond buying program (now down to $75 billion/month). This is a delicate process that must take into account a number of data points, including GDP growth, unemployment and inflation. Things are looking up for the US economy right now, which is why the Federal Reserve recently announced a $10 billion/month reduction in their stimulus program. That being said, the Fed has already stated that it could reverse course on tapering if the economy starts to sag.
—
Yellen has argued in recent months that an ultra-easy monetary policy was essential to restoring US economic growth. A number of Republicans expressed concerns over Yellen's pending confirmation, but they are powerless to do anything at this point. By Tuesday evening, Janet Yellen should be the next leader of the Federal Reserve.
Filed under:
General Knowledge