$436.4 Billion Deficit Through May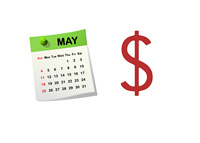 The federal government posted a $130 billion deficit in May, down slightly from the $138.7 billion deficit that was posted in May of 2013.
Through the first eight months of the current fiscal year, the US government has posted a deficit of $436.4 billion, down 30% from the $626.3 billion that was posted through the same period last year. According to the Congressional Budget Office (CBO), the country should post a deficit of roughly $492 billion for the 2014 fiscal year, which would equal roughly 2.8% of the gross domestic product.
The country swung to a deficit after posting a large surplus in April. The nation enjoys an influx of revenues in the form of income tax payments in April, which usually results in the country posting a sizeable surplus in that month. May is a different story, however, as 59 of the last 60 fiscal years have seen deficits posted in the month.
-
The United States spent a total of $330 billion in May while collecting a total of $200 billion, which resulted in a deficit of $130 billion.
Revenues through the first eight months of the fiscal year are $1.935 trillion, up 7.5% from the year before. Government spending was down 2.3% to $2.37 trillion over the same period of time.
-
Here is a breakdown of the government's receipts in May:
Individual Income Taxes - $79.945 billion
Corporation Income Taxes - $8.031 billion
Employment and General Retirement (Off Budget) - $59.1 billion
Employment and General Retirement (On Budget) - $16.568 billion
Unemployment Insurance - $15.591 billion
Other Retirement - $311 million
Excise Taxes - $5.697 billion
Estate and Gift Taxes - $1.432 billion
Customs Duties - $2.434 billion
Miscellaneous Receipts - $10.781 billion
The nation had six expenditures that were in excess of $10 billion in May. They were:
Department of Agriculture, $10.018 billion
Department of Defense - Military Programs - $48.891 billion
Department of Health and Human Services - $95.432 billion
Department of the Treasury (Interest) - $32.081 billion
Department of Veterans Affairs - $17.596 billion
Social Security Administration - $80.291 billion
Source: ABCNews.go.com -
US Records $130 Billion Budget Deficit in May
Filed under:
General Knowledge