President Weighs in on Decision to Cancel Release of "The Interview"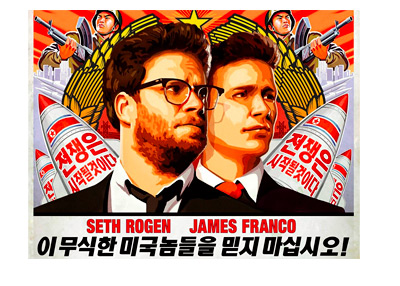 Earlier today, President Obama said in a White House press conference that Sony had "made a mistake" by cancelling the planned Christmas Day release of "The Interview". While Obama said that he was "sympathetic to the concerns that they face", the United States "cannot have a society where some dictator someplace can impose censorship here in the U.S."
Sony Entertainment CEO Michael Lynton appeared on CNN earlier today and refuted the notion that his company had made a mistake by not releasing the movie. Lynton, for his part, pointed out some major movie chains had elected to not show the movie and that Sony had not, in fact, "caved".
Let's back up a bit here and start from the beginning.
Sony was planning on releasing "The Interview", starring James Franco and Seth Rogan, on Christmas Day. The movie is about two journalists who travel to North Korea to interview Kim Jong Un. Before leaving, however, the duo are commissioned by the US government to assassinate the North Korean leader.
North Korea had warned that the release of the movie would constitute an "act of war" and that there would be severe consequences if it were to be released. Those consequences took the form of a massive intrusion of Sony's computer systems - a cyberattack that was, earlier today, officially linked to North Korea by the FBI. The hackers stole all sorts of sensitive documents, including emails, and slowly released their treasure trove of information, much to the embarrassment of numerous Sony executives.
About two weeks ago, the hackers (using the name, GOP - "Guardians of Peace") warned that "9/11 style attacks" would be coming to theater chains that elected to show the movie. A number of theater chains announced that they would not be showing "The Interview" due to the threats.
Earlier this week, Sony officially announced that it was pulling the release of the movie, much to the outrage of many. The prevailing opinion is that Sony had capitulated and that the company shouldn't have withered in the face of a state sponsored cyberattack. Sony, for their part, has said that they may end up showing the movie on the Internet.
-
What do you think - should Sony have pulled the release of "The Interview" or pushed forward in the face of numerous threats?
One final note - the hackers reportedly contacted Sony earlier today, congratulating them on their decision to pull the film. They also issued another warning, however, stating that the company would come under fire once again if they decided to release the film in another form.
Filed under:
General Knowledge