President Trump Currently Has Approval Rating of 43%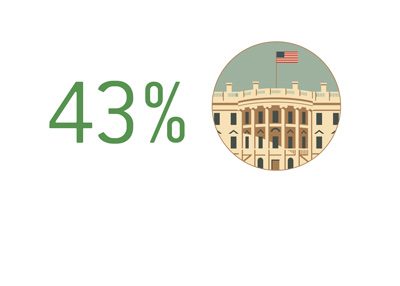 The bad news for President Trump? According to Gallup.com, his approval rating currently sits at 43%, which is a historically low rating at this point of his first term in the White House. Most newly elected Presidents enjoy a "honeymoon" period, where approval ratings can temporarily sit between 60-70%.
The good news for President Trump? His approval rating has improved somewhat over the past few weeks, rebounding from a low of 38% to a current level of 43%, while his disapproval rating has dropped from 56% to 52%.
-
One thing has become abundantly clear after President Trump's first full month in the White House - he is going to do whatever is in his power to keep the promises that he made on the campaign trail.
Assuming that this trend continues, President Trump will likely enjoy unwavering support from the people that voted for him, provided that the economy doesn't badly falter. People tend to turn away from the politicians that they voted for because promises are broken, but Trump appears hellbent on fulfilling the promises that he made on the campaign trail. This will almost certainly mean that his supporters will remain behind him, which should translate into an approval rating with a floor of somewhere in the high 30s.
If the economy catches fire, President Trump could win over some more people and possibly see his approval rating increase into the high 40s. Given the extremely polarizing nature of Trump, it seems nearly impossible that his approval rating would ever rise above that mark.
-
It should be noted that despite Trump's 43% approval rating, he is still the clear frontrunner to win the 2020 election as of this moment.
Filed under:
General Knowledge