Definition of Sell Rating
What is a sell rating? Why would an analyst give a stock a "sell rating"?
There are a number of different "ratings" that an analyst can give to a company that they are following. "Buy" and "Neutral" are two of the most common ratings, but from time to time, an analyst will bestow the dreaded "sell" rating on a company.
"Sell" ratings are not that common. Usually when analysts are trying to be diplomatic, they will give a stock a "neutral" rating, even when they believe it to be a sell.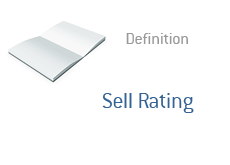 However, some analysts will come right out and give a company a "sell" rating, which ostensibly means that they are calling the company garbage.
A "sell" rating usually means that the analyst has identified major problems that exist at a company. A "sell" rating also usually means that an analyst believes that a stock will trade much lower than its current level over the coming months and years.
Companies will understandably be angered by receiving "sell" ratings. Investment banks want to do business with companies (raising money, advisory roles, etc), which is why it's pretty rare to see a big investment bank give a company a "sell" rating. If you do that, then don't expect to win any business from the company.
This is why "sell" ratings are generally the territory of smaller boutique firms, who may be more inclined to give their true feelings about a stock.
--
Davemanuel.com Articles That Mention
Sell Rating:
None