President Barack Obama Has a Net Worth of As Much as $7.76 Million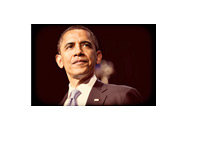 The White House released the personal financial disclosures for both President Barack Obama and Vice President Joe Biden earlier this week.
The verdict? The Obama family continues to do very well, while the Biden family? Not so much.
Let's look at the Obama financial disclosure for today.
According to the forms that were released by the White House, Barack Obama had a net worth of between $1,566,014 and $7,764,999 at the end of 2011. The exact values of assets are not reported in these disclosures, which is why there is such a difference between the minimum net worth ($1,566,014) and the maximum net worth ($7,764,999) for the Obama family.
According to the documents, President Obama made between $658,610 and $2,525,500 in gross income last year. This includes the $400,000 salary that he received as President.
As per usual, the Obama family doesn't have anything particularly interesting in terms of assets.
Their three largest holdings in 2011 were:
U.S. Treasury Notes, $1,000,001 to $5,000,000
U.S. Treasury Bills, $500,001 to $1,000,000
JP Morgan Chase Private Client Asset Mgmt Checking Account, $500,001 to $1,000,000
In addition to his $400,000 salary, President Obama also made money through the sales of his various books. According to the filing, Random House and Dystel & Goderich both paid Obama between $100,001 and $1,000,000 in royalties last year.
The Obama family listed just one liability in 2011 - a mortgage on their Illinois residence of between $500,001 and $1,000,000.
--
Sure, the Obama family isn't on the
Romney family's level
in terms of total net worth, but they are still doing pretty well for themselves.
Source:
Barack Obama Net Worth
Filed under:
General Knowledge