Banks, Infrastructure Plays Continue To Be Hot as "Trump Rally" Continues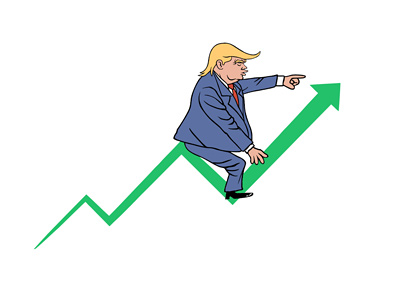 The "Trump Rally" continued this week as stocks finished at new all-time highs on Friday afternoon.
Prior to the Presidential election taking place in early November, some experts and observers warned that the markets would immediately tank if Donald Trump managed to defeat Hillary Clinton. Their theory was that a Trump victory would throw the world into turmoil and that the markets would dive as a result, as investors would stampede out of the market and into investments such as gold and silver.
This didn't turn out to be the case at all. The markets quickly erased any losses following a gap-down after Trump's win, and the NASDAQ, S+P 500 and DJIA have essentially gone up ever since.
Leading the way? Banks (Bank of America, Wells Fargo, etc) and infrastructure plays (U.S. Steel, etc). Speaking of Wells Fargo, it was only a few months ago when the stock was trading in the mid $40s following the account opening scandal - now, as of the close today, Wells Fargo is trading near an all-time high of $57.17.
-
There are a number of factors that are helping to push the markets higher on a near-daily basis.
First, many investors moved to the sidelines ahead of the Presidential election, and much of this money is presumably flooding back into the market.
Second, many funds are desperately buying the big "Trump Rally" winners (the aforementioned banks and infrastructure plays) so that they can have these stocks on their books by the end of the year. "Window dressing" is a powerful phenomenon and it is certainly in play this year.
In addition, many Americans (at least those that voted for Donald Trump) are feeling optimistic about the country's prospects going forward, and this is translating into increased gains for the markets.
-
How will the markets perform in 2017 once Donald Trump officially takes office?
Filed under:
General Market News